Quality is one of the top three priorities among C&R Research's core values. Based on ICH-GCP, KGCP and the applicable regulatory requirements, Quality Management System (QMS) established by QA team is used as an indispensable tool to manage the creation and operation of standard operating procedure (SOP), training for relevant personnel and its verification, evaluation and selection of eligible vendors, and internal audits that must be administered and controlled during the length of a clinical trial. Through its systematic process, C&R Research strives to provide clients with high quality clinical service at all times.
Well-Organized SOP System based on Local / Global Guidelines
C&R Research establishes written operating procedures based on ICH-GCP, KGCP and the applicable regulatory requirements to ensure consistent, high-quality services for clients and to efficiently conduct clinical trial related tasks. The written operating procedures are categorized into 4 stages according to their priority for systematic management.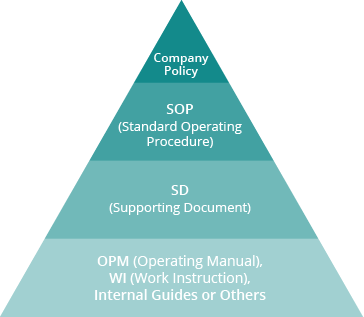 C&R Research's SOPs are composed of the series ranging from 0100 to 1100 by category. The understanding for SOP of each personnel based on each job title is further enhanced via web-based e-SOP system so that they can be versed in all SOPs. Further, through the step-by-step description of each task described in SOPs, the following high-quality clinical services are always available:
• Ensuring that clinical trials can be conducted efficiently and effectively.
• Ensuring that the integrity and consistency of clinical service can be maintained.
• Helping the personnel understand all applicable regulations and minimizing any deviation from those requirements in the execution of the project, and
• Clearly defining the responsibilities of personnel involved and specifying each assigned task.
Highly-Advanced Internal Audit Process
C&R Research has an independent QA team to ensure its high quality clinical service.
Internal audit is conducted under an annual quality assurance plan (QAP).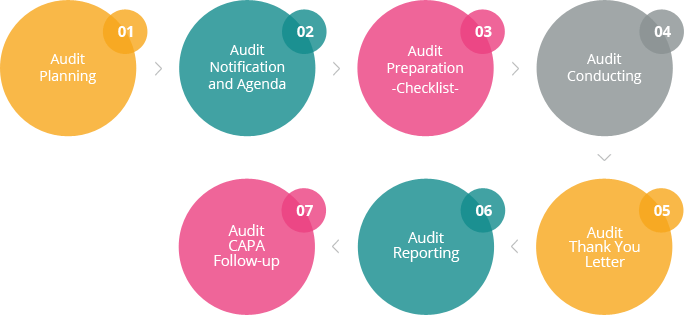 Systematic Staff Qualification
C&R Research provides a variety of continued education programs necessary for efficiently undertaking clinical operations, such as fundamental and in-depth training for clinical monitors, therapeutic area training, medical terminology training, and GCP training. The company has a systematic Staff Qualification Management System to ensure that all employees are qualified for each assigned role and responsibility and they complete the assigned training course.
In addition to clinical trial services, C&R Research helps clients achieve the best quality outcomes by enhancing the capabilities of a full-service CRO, along with our qualified personnel.
Efficient Vendor Management
C&R Research carefully selects eligible vendors that meet the criteria specified in relevant SOP. All vendors related to clinical trial and other services provided by C&R Research are being strictly managed with respect to the following areas, thus ensuring that high quality service can be consistently delivered to clients: clinical trial operation (including project management and monitoring), data management, biostatistics, medical writing, audit, medical translation, logistics, warehouse, Central Lab, and e-solution).