Early Clinical Development
Early Clinical Development
Many reports estimate that the total cost to develop and gain marketing approval of a new drug is about 1.5 trillion won for a lengthy period of 10 to 15 years. Even if large pharmaceutical firms and life science companies are spending a lot of time and money as a primary aim to develop blockbuster drugs that generate at least $1 billion in revenue a year, there are growing risks and economic losses on the part of drug developers due to today's expanding regulations and costly clinical trials process. Under such circumstances, to curtail heavy clinical trial costs, many sponsors have introduced a variety of data analysis tools to utilize diverse predictive models in the initial drug discovery stage, as part of efforts to dispel any uncertainty and centralize their efforts on the new drug project with a high potentiality. As a proven clinical services provider with over 20 years' experience and expertise, C&R Research offers reliable data and solution for clients so that they can make an optimal, timely decision in an early clinical development.
One-Stop Drug Development Process through Integrated Service
Q-fitter, Korea's first and only pharmacometics services and early site management organization (SMO), is a business model commercializing the pharmacometrics that have been locally conducted in an academia setting as a small size until this date. C&R Research has built a service model integrating its 25-year accumulated capability of clinical trials with Q-fitter's pharmacometics expertise and SMO technology. This model can provide an one-stop clinical trial process from the initial new drug development design to the latter phase of drug development, thus enabling clients to effectively reduce the amount of time and effort required for clinical development and providing assurance that their new drug R&D project can be successfully operated.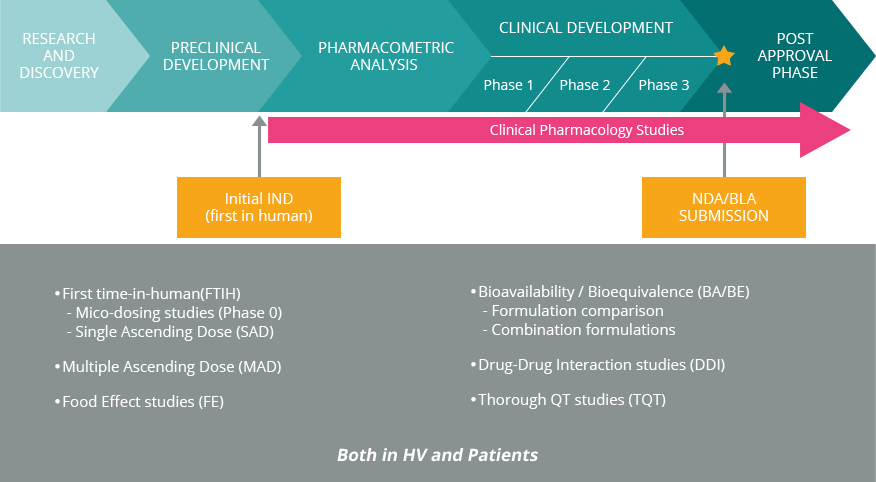 With a workforce of experts having rich clinical experience and under organic collaboration with Q-fitter's researchers, C&R Research provides an optimal, tailored clinical development solution to manage the client's project via various approaches. In addition, by utilizing its human resource pool that has been firmly established among the industry, academia and government and other available resources, C&R Research will help clients conduct the early phase studies efficiently from Phase 0 to Phase IIa.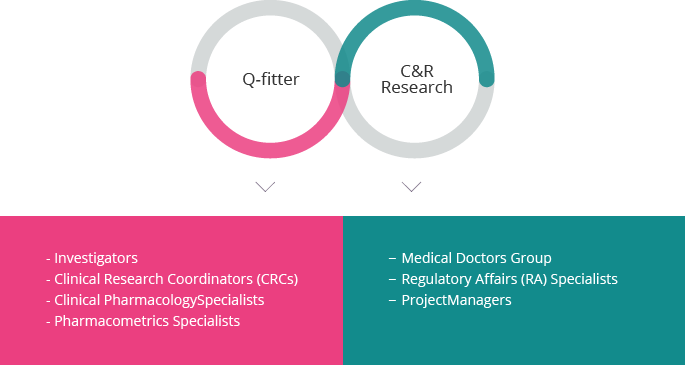 2. Pharmacometric Anlaysis
In an effort to diversify the scope of its 20-year clinical services, C&R Research established Q-fitter in 2016. Since 2014, Q-fitter has been offering pharmacometrics consulting services to clients in initial clinical development and modeling/simulation in diverse therapeutic areas. Through such accumulated experience, C&R Research takes pride in providing reliable new drug R&D strategies for clients at all times.
Nonclinical to clinical trial translation
Compound
Indication
Purpose
Modeling Practice
A
Anti-cancer
(Cytotoxic)
Evaluation of anti-tumor effect
B
Anti-cancer
(target)
Human starting dose escalation

Antibody PK-PD (TMDD)
Comparator drug

C
Dislipidemia
Human starting dose estimation

PK/PD (Dose proportionality)

First-in human trial design
D
Inflammatory
Disease
First-in human trial design

PK/PD (Dose proportionality)

E
Anti-cancer
(target)
First-in human trial design
F
Autoimmune
Human starting dose estimation
G
Anti-cancer
(target)
Human starting dose escalation
First-in human trial design

Comparator drug
Tumor growth model

H
Anti-cancer
(target)
Human starting dose escalation
Nonclinical study design

Comparator drug
Tumor growth model

I
Diabetes Mellitus
Type 2
Human starting dose estimation
Next Step clinical trial translation
Compound
Indication
Purpose
Modeling Practice
A
Anti-hepatitis
Evaluation of clinically-applicable dose

Antibody PK
Clinical decision-making criteria

B
Dislipidemia
MAD design

PK/PD (Dose proportionality)
Comparator drug

C
Dislipidemia
Prediction of Food Effect

PK/PD (Dose proportionality)
Comparator drug

D
Autoimmune
Evaluation of PK similarity to comparator drug

Antibody PK comparison
Healthy vs. Patient
Comparator drug

E
Infectious Disease
Population PK analyses

Antibody PK
Mixture formulation

F
Infectious Disease
Phase II trial design

Preclinical PK/PD
Phase I, IIa Pop PK

G
Peptic Ulcer
Multiple dose PK prediction

PK (long half-life)
Various loading dose scenario

H
Autoimmune
Phase II trial design
I
Autoimmune
Phase II multiple dosage regimen suggestion

Pediatric single dose PK analysis

J
Anti-cancer
Phase II trial design
K
Autoimmune
MAD design
L
Anti-cancer (mAb)
MAD design