Reasons for C&R Research Carrying Forward of Buying the U.S. CRO and IPO
Aiming for the 'Global and Full Serviced CRO' with the needs of Korean bio and pharmaceutical companies..Will be listed on KOSDAQ in 2020 and will "Leap forward as a Healthcare Comprehensive Solution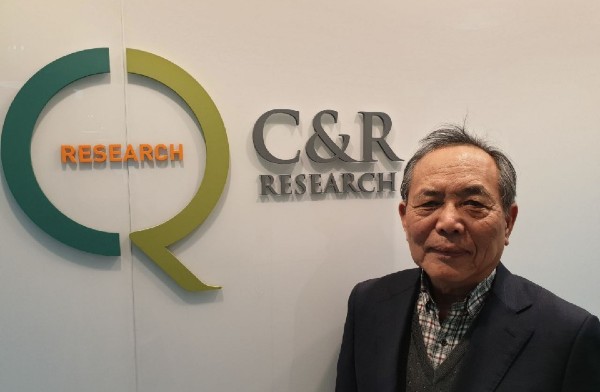 "The role of the CRO is to promote the projects in line with the needs of the clients (sponsors). If Korean pharmaceuticals and biotechs challenge global clinical trials, CRO should also prepare for global expansion. C&R Research is pursuing a global, full serviced CRO, making in line with the needs of these clients."
Moon Tae Yoon, CEO of C&R Research, is preparing for a new leap for those reasons. Korean CRO companies should plan for accommodating changes in Korean bio-pharmaceutical industry, which has emerged as a new growth engine for Korea. The company's philosophy, "customer-oriented C&R Research" is not just a catch phrase, but an essential condition, the nature of CRO industry and a prerequisite for survival.
C&R Research is planning to start full-fledged project to expand the company, including the acquisition of U.S. CRO, GCLP-based central lab business, and series B investment. Based on this, they will challenge for its listing of KOSDAQ in 2020.
CEO Yoon said, "This year, we are planning to make C&R Research volume and value up through aggressive business development," and "Through this, we are aiming to become a competitive Asian CRO that can perform multi-national clinical trials."
C&R Research is well-known as Korea's No. 1 CRO established in 1997. To date, they have conducted 1400 ~ 1500 clinical trials at home and abroad and have reached about 350 employees (including affiliates). They have several subsidiaries in Korea and overseas: China 'Lewei Changshin', Singapore 'C&R Healthcare Global', C&R Academy, LeadTrial, Cupiter.
Since last year, C&R Research has been actively seeking for changes such as raising capital through attracting foreign investment and promoting a global team project. This is a move that senses changes of Korean drug developing market getting globalized.
The first goal is to establish a global clinical service network beyond Korea. Director Byung In Yoon said, "By last year, we have established a network for global clinical practice by organizing branches and networks in major regions in Asia." Specifically, they established a system that can be carried out overseas such as in China, Australia, Taiwan and Japan for clinical projects, and the clinical projects are already underway.
The final goal of global team project this year is the acquisition of the U.S. CRO. As more domestic Korean companies are challenging to conduct clinical trials in the U.S., C&R Research will systematically support them through the acquisition of a local U.S. CRO. The experienced C&R Research will be an assistant to domestic drug development companies that lack clinical experiences.
Yoon explains, "We have been searching for a CRO that can be acquired through field surveys and are currently negotiating. The goal for this year is to finalize the acquisition and to lead the local clinical trials of Korean companies." And their final goal is to become an Asian CRO with competitiveness that will enable multinational clinical trials to develop global drugs.
Another goal of C&R Research is to become a 'Full Serviced CRO'. In addition to traditional clinical programs, they will create an all-round service organization from technical lead to joint development and to production distribution.
The company is currently conducting an incubation project in Singapore aimed at supporting overseas expansion of domestic healthcare companies. Currently, more than 10 companies are in operation to enter the local market and to attract investment. C&R Research is seeking investment and cooperation plans for clinical support of bio-companies with excellent pipelines in Korea, and it is known that some of them have reached the stage of contract agreement. This is also part of the plan, which they had signed with Legochembio earlier this month to develop the next generation Gram-positive bacteria antibiotic Delpazolid and establish a strategic partnership for domestic and overseas market entry.
The central lab business that is jointly ventured with domestic companies based on GCLP (Good Clinical Laboratory Practice) will also be actualized this year. A central lab is an institution that collects samples from a number of hospitals before and after clinical trials into one laboratory to obtain accurate clinical trial results. This will be a one-stop solution to support clinical trials. They are also looking for a CMO business that produces drugs used in clinical trials through investment in KBioStart, a subsidiary of Osong Medical Innovation Foundation (KBIO).
Recently, C&R Research is continuing to expand their volume by having recruited Soo Jin Choi, Head of Clinical Operation, who has conducted clinical trial operations in various fields such as analgesics, anti-cancer drugs, vaccines, digestive systems, endocrine systems and dermatological drugs through multinational pharmaceutical companies such as BMS Korea and MSD Korea.
In May of last year, C&R Research attracted 5 billion won (KRW) from Series A investment from Kolon Investment, and plans to launch Series B funding this year. In addition, NH Investment & Securities will be selected as the representative manager and to make C&R Research list on the KOSDAQ in 2020. Byung In Yoon said, "The goal of the KOSDAQ next year is to raise funds to become an Asian CRO with competitiveness to carry out conducting multi-national clinical trials."
Lastly, CEO Yoon asked for interest in domestic CRO industry and said, "It is the CRO that leads a way for biotechnology and pharmaceutical companies. The know-how of CRO is the foundation of new drug development industry in Korea."